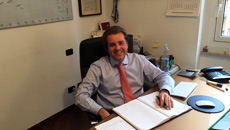 Qualified lawyer since 2002, Andrea's expertise covers shipping, insurance, international trade, energy sector, civil and commercial law.
He also an in-depth knowledge in the field of yachting, working with shipyards, brokers, owners, banks and leasing companies.
Andrea assists Italian and foreign clients in diverse disputes related to maritime casualty claims, arrests, collisions, salvages, total ship loss, damaged cargo.
He is admitted to practice before the Supreme Court of Cassation since 2015.